highlights
The number of organ donations in India has increased by almost 50% in the last seven years.
There were 6,916 organ transplants in India in 2014, which increased to 12,259 in 2021.
Analysis over the past 20 years has shown that 75-80% of living donors were female and an equal proportion of recipients were male.
The number of organ donations in India has increased by almost 50% in the last seven years, but according to the data, this number has lagged far behind keeping in mind the increasing demand of transplant patients. According to ORGAN India data, organ donation is getting more acceptance in India, but organ transplants are also growing much faster than organ donation. For example, the annual organ transplantation activity in India has increased from 6,916 organ transplants in 2014 to 12,259 in 2021. It saw an increase of about 77%. This includes kidney, liver, heart, lung, pancreas and small intestine transplants.
Annual Organ Transplant Activity in India 2014-2021.
In contrast, the number of organs donated by deceased donors was 1,030 in 2014 as compared to 1,619 in the previous year. An increase of about 57% was registered in this. This does not include the number of kidney or liver transplants performed by living donors. Where, both these numbers are increasing, yet there is a huge gap in demand and supply. Organ India Chairperson Anika Parashar Speaking to News18, said that there is a huge gap between the patients who need transplant and the organs that are available in India. Parashar further says that even today in a diverse country like India, ignorance, hesitation and superstition are prevalent among people regarding organ donation.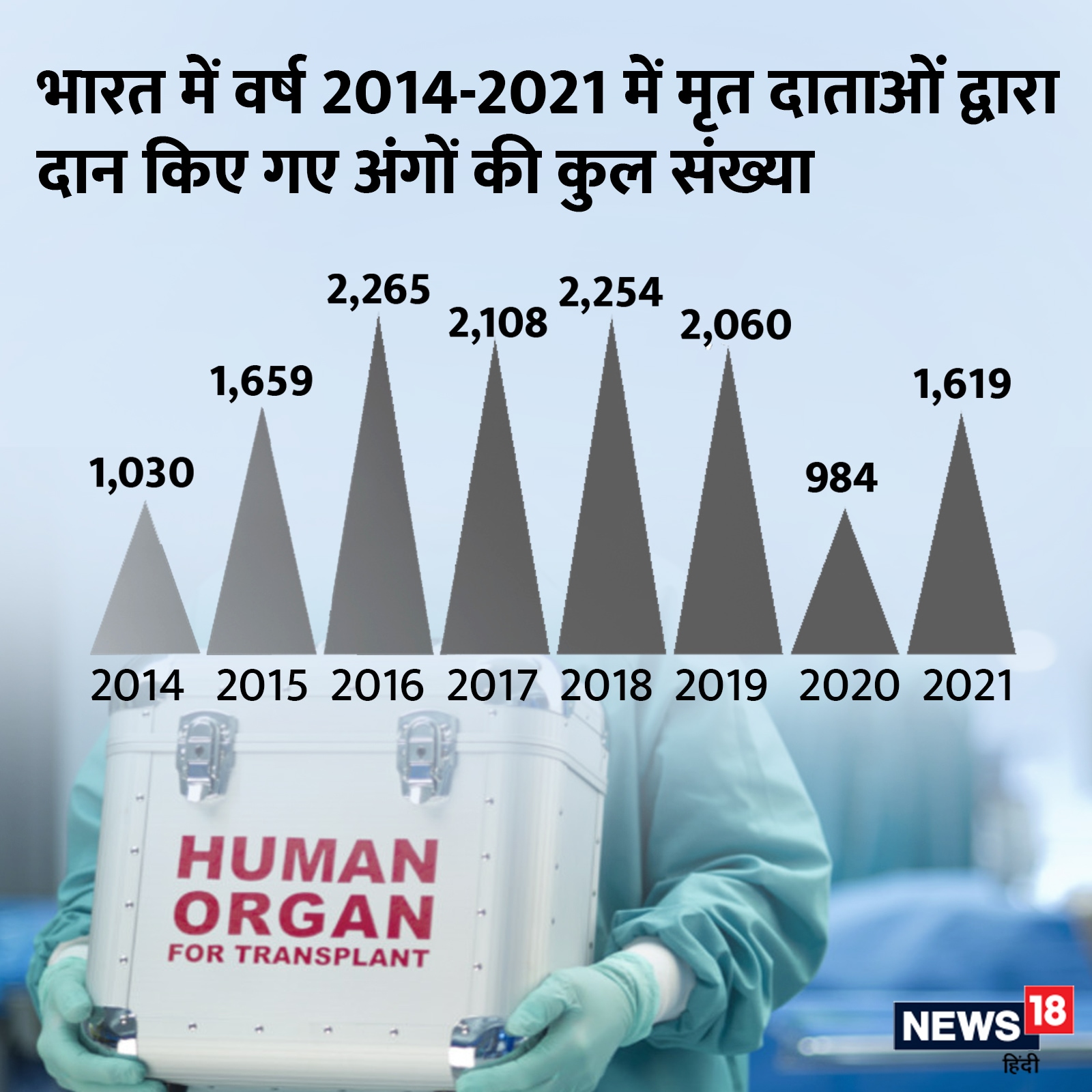 Total number of organs donated by deceased donors.
Many times it also happens that the patient pledges his organs, but the family members refuse to cooperate in this. Even many brain-dead patients who cannot get life again, their organs are also not donated, while it can save the lives of many serious patients.
Read this also: Who Can Donate Organs, Who Can't? Learn its methods and criteria from experts
what do the figures say
According to government estimates on the website of the Directorate General of Health Services (DGHS), about 1.8 lakh people suffer from kidney failure every year. Yet the total number of kidney transplants is around 6,000. About 2 lakh patients die every year in India due to liver failure or liver cancer. About 25,000 to 30,000 liver transplants are needed every year, but only 1,500 liver transplants are being done.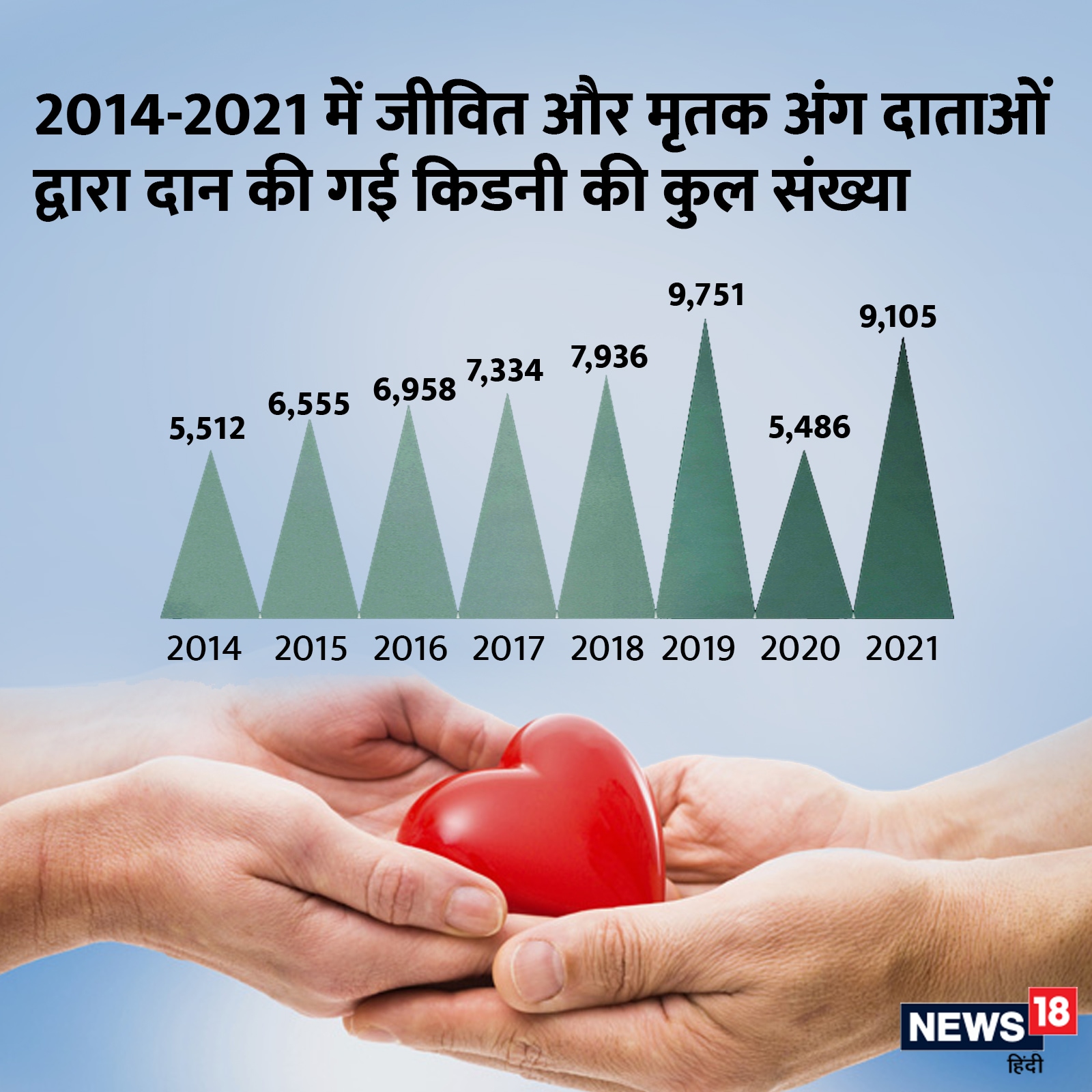 Total number of kidneys donated by living and deceased organ donors.
Similarly, about 50,000 people die of heart failure every year, but only 10 to 15 heart transplants are done every year. Parashar says it is difficult to estimate the difference between total organ donation and organ transplant in India. There are roughly half a million people who suffer from organ failure and less than 3% of them receive a life-saving organ.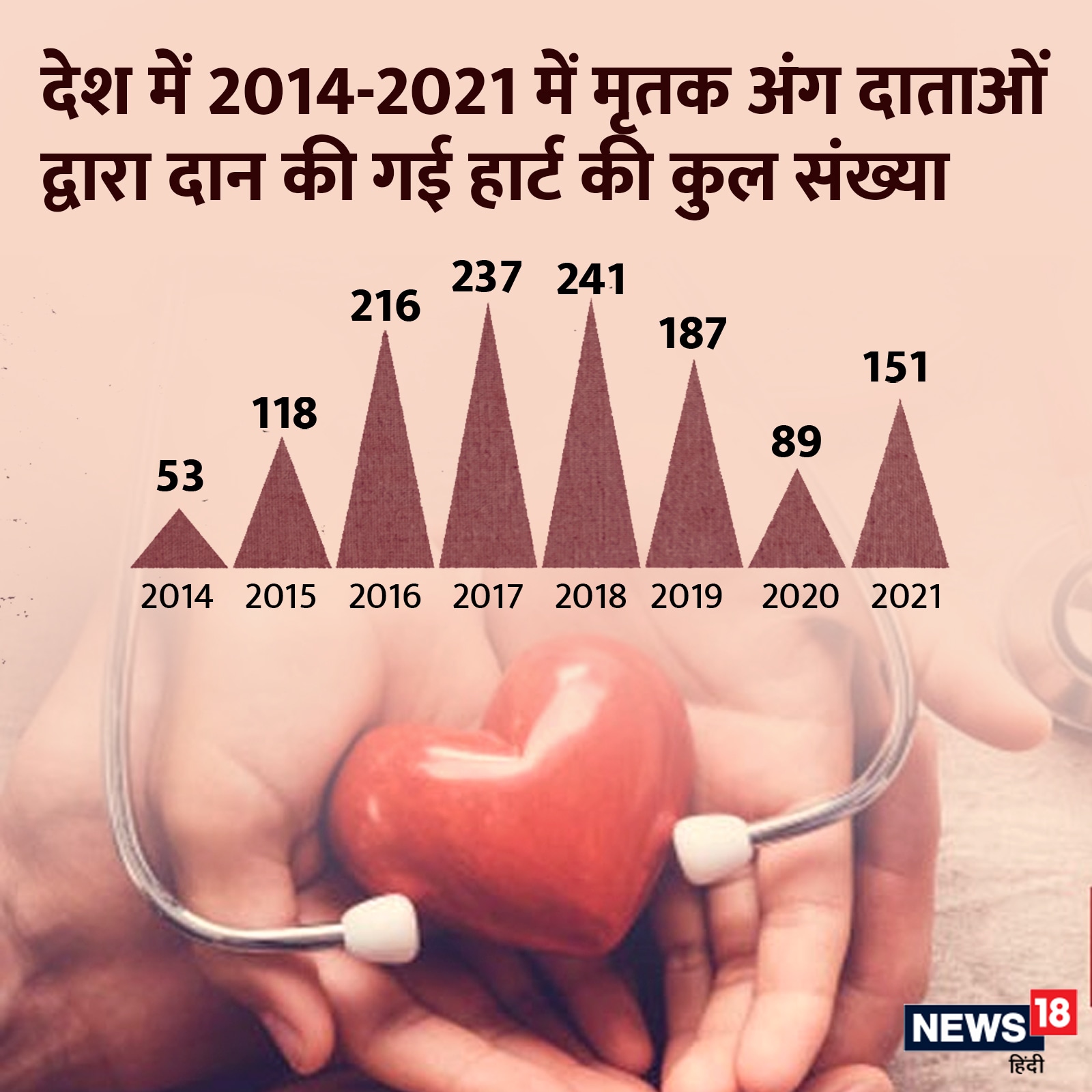 Total number of hearts donated by deceased organ donors.
female vs male organ donor
Research conducted by Dr. Vivek Kute of the Institute of Kidney Diseases and Research Center shows that out of 12,625 transplants in India, 72.5% of the recipients were men. Analysis over the past 20 years has shown that 75-80% of living donors were female and an equal proportion of recipients were male. Parashar says that the question that arises here is why are women considered less qualified to receive organs and given less chance to live than men? This clearly shows that even today in Indian society, women are considered less important or valuable than men. He said that there are many reasons for the increase of female donors, such as emotional attachment to her husband, financial concern, worry about not being the breadwinner in the house, worry about looking after the family after the death of the man, etc.
According to Parashar, while the number of people pledging their organs is on the rise, we are still lagging behind when it comes to actual transplants. There is a need to increase more awareness in hospitals and cities across the country for proper transplant. There is a need for proper coordination between the authorities, police, medical fraternity and families. Brain-death committees need to be set up in more hospitals in Tier 1 and Tier 2 cities.
First read breaking news in Hindi News18 Hindi| Read today's latest news, live news updates, most reliable Hindi news website News18 Hindi.
Tags: health, India, kidney transplant, Lifestyle, liver transplant, Organ Donation
FIRST PUBLISHED : December 06, 2022, 12:53 IST
Note: Before work on all health tips please consult your doctor first if any discrepancy found due to this article our website will not be responsible. so please consult your doctor before process on any tips. also if any wrong information are appear in the post kindly confirm via our mail admin@amzdeel.com.
Find our other website for you and your needs
Kashtee A shayari,Jokes,Heath,News and Blog website.
Your GPL A Digitsl product website.
Amazdeel Amazone affiliated product website.
Job Portal A Job website.
Indoreetalk Hindi News website.
know24news A auto news website in english and hindi.
Q & Answer website A website for any query and question.
Quotes A Christmas Quotes.
A website for cricket score online and upcoming matches.
Government job A Government job announcement portal.
Gaming Information Website A website for Gaming lover.
International News information Website A website for News Lover.
Free Guest post Website A free Guest post website.
Baby care Product website A website for your baby product.
Technology Website A website for new launching technology and mobile also gadgets Website.
Health Tips Website A website for Health related issue and some idea for health .
Share Market Website A website for share market news and some viral news related to IPO, Currency, Commodity market,Banking and finance.
Bollywood and Hollywood news A website Bollywood and Hollywood viral news .